This content is more than 2 years old
In our changed climate, when tropical cyclones form they form in a climate that is warmer, wetter, and more energetic than before. This surplus of energy translates to cyclones that are faster to develop and faster to intensify. The added heat also leads to greater windspeeds and water-carrying capacity, which means cyclones are far more destructive.
All of these qualities were present when Tropical Cyclone Yasa made landfall in mid-December 2020 and ripped through Fiji's northern and largest island, Viti Levu. Cyclone Yasa displayed many of the characteristics we've been warned to expect of cyclones as the world warms: it was extraordinarily strong for this early in the season (the earliest category five South Pacific cyclone on record), it intensified very rapidly, it moved slowly (causing tremendous damage as it lingered for many hours over the western side of Vanua Levu), and brought extremely high winds and rainfall.
Predictions for the future
Tropical Cyclone Debbie in 2017 making landfall over the north Queensland coast. Climate change could result in more intense tropical cyclones which can cause physical damage to reefs.
The total number of tropical cyclones will likely decrease in the future, since their formation is favoured by greater temperature differences between a warm ocean and a cold atmosphere (a gap that will be reduced by a warming climate). But those tropical cyclones that do form, however, will likely be more severe due to the reasons outlined above. This is doubly true for Australia and Pacific Island countries during La Niña, a wet and wild weather complex we are set to experience from 2020.
Learn more in our updated factsheet on Tropical Cyclones and Climate Change, including the latest science on the influence of climate change on tropical cyclone formation and behaviour.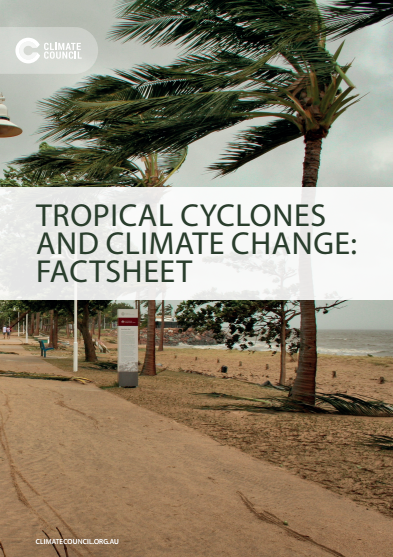 ---
Want to be the first to find out about the latest climate news? Join the Climate Council today.