This article is more than 3 years old
The immensity of Australia's 2019/20 summer of bushfires shows us that climate change is here now. Directly and indirectly, people in Australia and around the world are feeling the hurt that these extreme weather events, unprecedented in size, intensity and impact, are causing.
And you might be wondering what you can do to help. We've included some tips and links to helpful Climate Council resources below. We've also included 5 things you can do to focus the national conversation on climate action.
In the immediate aftermath of this bushfire crisis, millions of Australians are stepping up and contributing in countless ways, from providing water and food for people in affected communities, to sewing pouches for kangaroo joeys, to donating money to the recovery effort.
The Animal Rescue Craft Guild is corralling items such as kangaroo joey pouches and blankets from crafters around the world. Image: Avalon Llewellyn / Animal Rescue Craft Guild
However you choose to get involved, here are a few things to keep in mind:
• Health experts have advised that anxiety and stress are completely normal responses to a crisis like this, and that different people may respond in different ways, particularly those who have been directly affected by the bushfires. The ABC has some tips for looking after yourself and your loved ones at this difficult time.
• If you would like to donate goods, make sure your donation is solicited, that is, asked for by a local community or agency. Many small community halls around the country are getting inundated with items which they don't have the capacity to sort through.
• Volunteer your time, or make a financial contribution, if you are able. Whether that is to someone you know, a chosen charity or cause, or by purchasing from small local businesses in fire-ravaged communities or even by attending a charity concert – there are countless opportunities to contribute.
• Be wary of the legitimacy of fundraisers. Some unscrupulous fundraisers are trying to capitalise on the generosity of Australians, but there are things you can do to protect yourself, such as looking for these warning signs and checking whether charities are registered via the Australian Charities and Not-for-Profit Commission website.
It's clear from the human response to this disaster that people are eager to help right now. In the face of so much hurt and destruction, this collective spirit is heartening.
Russell Crowe used his 2020 Golden Globes acceptance speech to underline climate change's influence on the Australian bushfires. The actor's NSW property has been affected by the fires.
But as the national conversation evolves – and it is changing quickly – we have to evolve with it and shift our focus to what we do next.
As announcements are made and state and federal funding is allocated, it is critical to remember that any bushfire recovery effort will be incomplete unless it's accompanied by a strong climate policy that rapidly and significantly cuts our greenhouse gas emissions.
This crisis must be a catalyst for action.
Here are 5 things you can do to help us steer the national conversation on climate toward action, in the wake of these devastating fires:
1. Check out our bushfires and climate change explainer, which outlines why these fires are not normal, how burning coal and gas is driving the unfolding climate crisis, and what our leaders need to do about it. Click here for the explainer.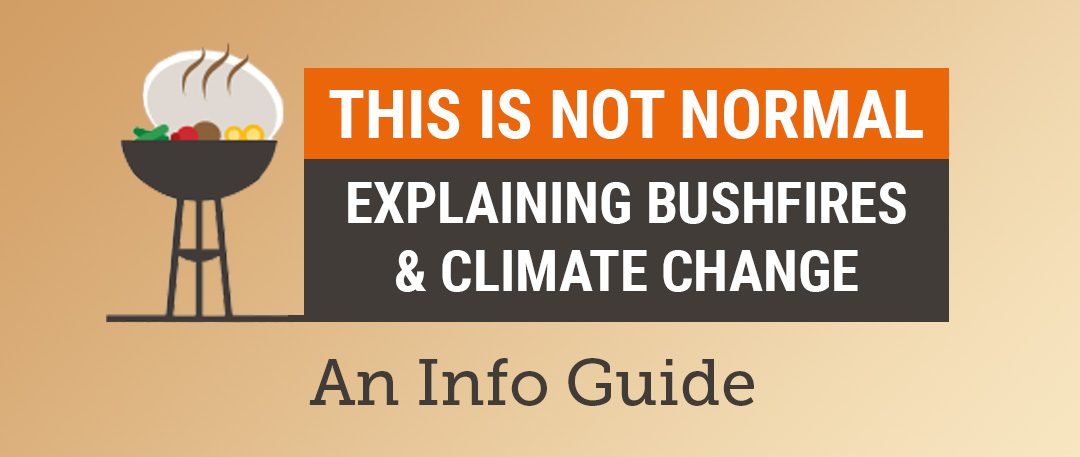 2. Watch and share this video where Greg Mullins heads to California to investigate the effect of longer, more dangerous fire seasons.
3. Read more about how climate change is making extreme weather events like bushfires worse in our Dangerous Summer report.
4. Once you're skilled up on the science behind climate change and bushfires, get involved in the conversation on social media and real life. Amplify the messages people need to see, read and hear by sharing our Instagram, Facebook and/or Twitter content. Remember to always be respectful when engaging online and back up statements by linking to reputable sources (like the Climate Council!).
5. Contact your Member of Parliament (MP) to let them know that you want a credible climate policy that focuses on lowering greenhouse gas emissions. Here are some tips on how to make your letter effective.
The numbers are constantly changing, but the scale of destruction is clear.
Climate change is here now and Australia is not prepared.
To make sure this unprecedented bushfire season becomes a catalyst for action, and enables us to build resilience to climate change in the weeks and months ahead, we have to keep the climate change conversation going.
This crisis underlines the urgent need to drive down greenhouse gas emissions and prevent escalating devastation. That means quitting it with fossil fuels and delivering more renewable energy and storage, agriculture and transport solutions, to create a safer, healthier world for all of us to live in.
By playing your part in skilling up on the science behind climate impacts and solutions, asking the right questions of the right people and sharing information from trusted sources, you are carving a pathway to effective climate action.
---
Thank you to the emergency services, volunteers and all those who have responded so quickly and generously to the bushfire crisis and recovery effort.
We are still in the middle of the bushfire crisis, and things can change at any second. It is always important to keep up to date on local conditions and heed the advice of emergency services.
---
To help us keep the spotlight firmly fixed on climate change and bushfires, and push for action from local, state and federal governments, click here to make a financial contribution to the Climate Council today. Donations over $2 are tax deductible, and a receipt will be emailed to you.